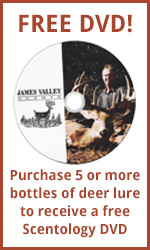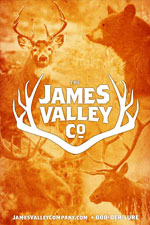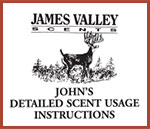 Our attracting lures/cover scents are formulated with the finest materials available. I will never 'cut' or tincture my lures to keep sales going – a lot of our competitors seem to be more interested in gimmicks, false advertising and profit than what we care about more than anything else – QUALITY.
When we run out of a product formulation, it's gone until next year. I won't substitute low quality to keep sales going!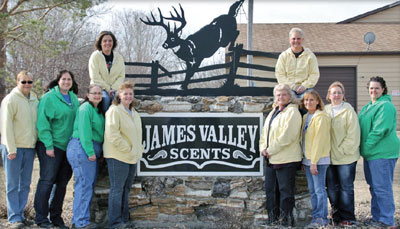 I'm not going to B.S. you with ridiculous claims like some scent manufacturers do each and every year. The scent industry is full of gimmicks and very poor quality products. STAY AWAY FOM THOSE WHO SELL BUCK/ESTRUS SCENT FOR $30 TO $50 A BOTTLE! This is nothing but a scam from greedy individuals to try to fool you out of your money. The phrase 'you get what you pay for' doesn't always apply with scents and lures.
A lot of my customers tell me that they have had 'mixed' results with scents. Most hunters don't understand proper scent preservation. It's much more difficult for a hunter to get the small scent stream of his lure to a buck's nose than it is to get the sound of his rattling antlers or grunt call to a buck's ears. The reason some hunters have mixed results with scents is because they don't understand the conditions that can hinder scent penetration and the importance odor concentrations play.
I provide a 4,500-plus-word pamphlet with each order that describes, in detail, important facts that must be understood in order to have consistent success with attractants and cover scents. Upon receiving your urine/gland lures and urine masking scents, keep them in a cool, dark place until reuse. Refrigerate and never store urine or gland-type scents near excessive heat or direct sunlight. They will last many years if kept refrigerated.
Important note: My lures are packaged in glass bottles with metallic seals and are preserved with a powerful odorless powder preservative – shipping in warm temperatures is not an issue.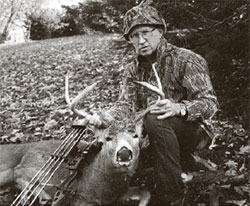 Dear John, I primed some weak scrapes along a fence line with Wall Hanger. You wouldn't believe the way the whole scrapeline exploded! The first time I hunted the area I had deer all around me and shot a 9-point buck. A doe and a button buck also responded well to Wall Hanger. I just can't believe what Wall Hanger does to scrapes and how it seems to calm deer. You make a great product. Keep it up.
Jim Magill, Zelienople, PA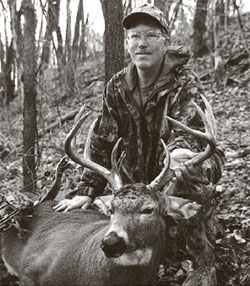 Dear John, Once again your Full Rut scent did the job. This 147: Gross P&Y is the third large buck I have shot using Full Rut. I placed the scent on trees 20 yeards to both the left and right of my stand. When this buck came walking through he locked info the Full Rut, stopping him for a 15 yard broadside shot. He was so locked into the scent that he did not even hear my arrow squeak against the rest. When that happened, I thought I was in trouble, but thanks to your scent, I was OK. All 3 of the bucks that I mounted using your scents have locked into it when they were walking. One of them even left a hot doe he was trailing behind at a distance of 10 yeards and walked over to the rag that I had left hanging in the tree and stuck his nose in the rag. If I hadn't seen it, I would have never believed it.
Kevin Casey, Cuba City, WI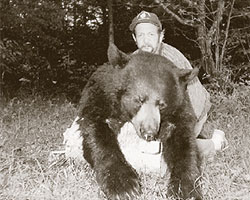 While bear hunting in Ontario, I was introduced to your Knock-Out Bear Lure. Some hunters from Pennsylvania gave me some and I used it on the third night and shot this boar. It had a 19 1/4″ skull and weighed around 350 lbs. My hunting partner shot his bear the next night using Knock-Out also. Being a trapper for 40 years, I know how to appreciate a good lure. You sure have one!
Dave Thomas, Gerry, NY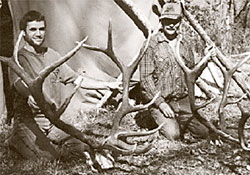 Dear John, I had another fine year of hunting thanks to your scents. Went hunting elk out west and your elk scents proved to be a valuable tool which helped in my success as wel as my hunting parthers'. I shot a large heavy beamed 6 by 6 at 8 yards with my bow. Your Cow Elk in Heat Lure allowed me to get right into this bull's herd. My hunting buddies also had great success in getting right in on her bulls, one shooting a 5 by 5 and the other scoring a huge 6 by 6 at 20 yards. After using your scents for the past 5 years for deer it really didn't surprise me that your elk lures worked just as well. It was the hunt of a lifetime thanks to some hard hunting and your fine lures. Thanks once again for producing fine hunting products.
Pat Schellschmidt, Lansing, IA